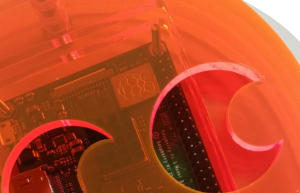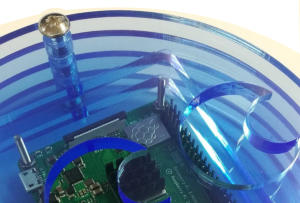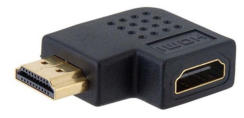 Acorn and RISC OS Spares and Extras

Fluorescent acid green acrylic round layer case,
with a RISC OS cog engraved in the top layer.
Only 35mm in height, but with 25mm clearance
for your Pi and HAT. Fan cutout optional.
Want to use it for a non-RISC OS Pi? Not sure
why you would, but here's a Raspberry Pi
themed engraving on the top.
That is not dead which can eternal lie. And with
strange aeons even death may die. So prepeare
for the coming of Cthulhu with this cephalopoid
case for your Pi.
Let HPL himself haunt the dark of your desk
with this sihouette engraved case.
Prepare for the Old Ones return and use
Derleth's Elder Sign to protect you from the
madness that is coming.












Retro gaming fan? User of ADFFS? Get this
themed case to keep your retro gaming machine
ready for the Space Invasion. With cut through
eyes for added ventilation.
Want something a bit more sinister? Have the
devil sit at your desk while you tinker with your
Pi - what could possibly go wrong?! With cut
through eyes for added ventilation.
Be you Jedi or from the Darkside, remind
yourself of that unique Skywalker achievement
as it was before… with ventilation holes.
Media Center case with Kodi-esque logo
emblazoned on the front. Would look garish and
glowing on anyone's TV set up!
As a tribute to how these gaudy cases were
made, emblazon yours with the Laser warning
symbol as it glows in the corner of the room.
With cut-through centre circle.
Get a HDMI adaptor to alter the angle of the
cable coming from your Disq case.
Can only be pruchased with a Disq or Ghostly.




A homage to the simpler games of the past,
Winky is a ghost shaped case for the Raspberry
Pi in fluorescent red acrylic. Top and bottom
slices are shaped and with cut through eyes.
Like Winky but in fluorescent blue, Stinky will
sit quietly waiting for any other Disq casesto
come along, and then devour them!
Hyde - that fluorescent orange case to make up
the triad of Ghostly cases for your Pi retro
gaming setup. Or any other Pi setup!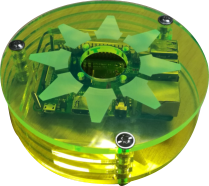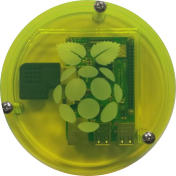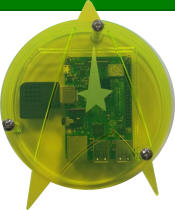 Want to join the Federation? Star Fleet
Academy recruit? Get your sepcially themed
Disq case to show you the way.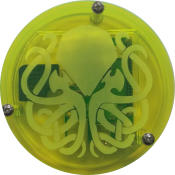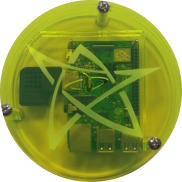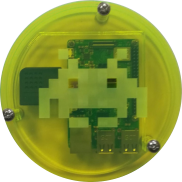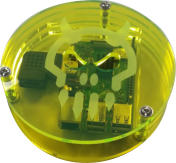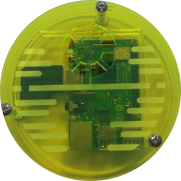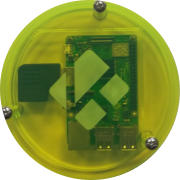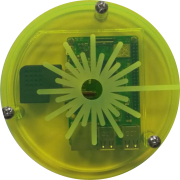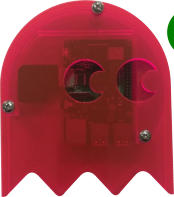 We can create and design a unique Disq case to your specifications from a range of opaque, frosted, translucent
and fluorescent acrylics, as well as wood veneered and other sheet materials.
Ideal for gifts, prizes, giveaways and promotional items.
Please contact us to let us know your ideas and we'll guide you into designing the exact Disq you want on to
cover and protect your Raspberry Pi on your desk.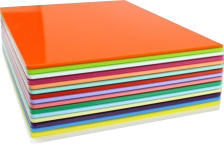 Disq cases are made from 5mm acrylic and can be used with Raspberry Pi B+, 2B, 3B, 3B+ and 4B